Product
Thanks to our Premium Pet Blanket your fur family does not need to give up comfort for style. Our stylish Sherpup® proprietary fabric ensures such a cozy experience that our premium pet blanket will soon become your furbaby's favorite! Being warm and lightweight, your pet can take this blanket with them anywhere. Additionally, this blanket is moisture resistant, so any spills or accidents will not soak the blanket or the surface it is covering. With reversible high-quality materials, triple stitched edges, our soft Sherpup® fabric, and multiple colors and sizes, we would recommend our premium pet blankets for your furbabies that deserve only the best products!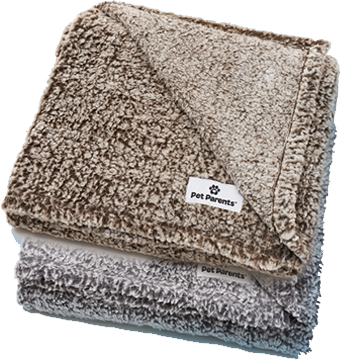 Perfect for:
Travel
Crate Comfort
Warm & Cozy Snuggles
Protecting Furniture
Pet Beds
Perfect Pet Gift

And More!
Sherpup®
Our proprietary multi-layered fabric is designed to ensure ultimate coziness and softness for your furbaby! With our Pet Blanket your furbaby will be enjoying warm snuggles in no time.
Triple-Stitched Edges
This secure, triple-stitched binding ensures that you don't have to worry about your cat & dog blanket easily fraying over time. Triple the stitches for triple the durability.
Water Resistant
Our premium pet blanket is crafted to be water resistant in order to prevent small messes such as drool and water from seeping through onto your carpet, couch, or bed! Looking for an absorbent, waterproof blanket? Check out our Pawtect® Blanket!
Colors that Blend into Your Home
Crafted with modern colors, we pawmise our pet blankets will blend seamlessly into any room of your home. Our blanket is so stylish your guest won't even notice it is a throw blanket for your furbaby!