Product
Best in class absorption & odor control. Pet Parents® Pawtect® premium dog pee pads packs in the fluids, whether a great dane, chihuahua, or kitty cat, we've got you covered. Our WickQuick® proprietary fabric blend quickly wicks & holds more liquids per square inch than the other options on the market. Because they are family®, we only want what's best for your pet!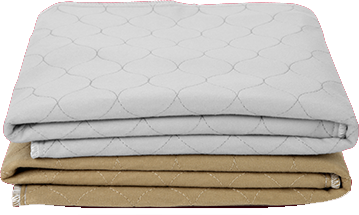 Perfect for:
House Training
Crate Liner
Protecting Furniture
Whelping Pads
Incontinent Pets
Post-Surgery Pad
Under Bowls
Under Litter Boxes

And More!
Triple-Stitched
The large, wide zig zag stitch accompanied by the sturdy, straight stitches make for one strong binding. This secure, triple-stitched binding ensures that you don't have to worry about whether or not your puppy pads are going to successfully prevent a mess without falling apart.
WickQuick® anti-tracking
A proprietary fabric blend that quickly wicks, absorbs & holds in more liquid per square inch than other options in the market, locking the liquid in the pad so it can't be tracked all over your home.
Waterproof, Leakproof & StickyPaw™ Backing
Our washable pee pads are water proof, leakproof & our StickyPaw™ backing grips the floor, providing an anti-slip grip. So when you say, "Stay!", it actually does stay, no training needed.
Washable
Because our pee pads for dogs are washable & reusable, you are not only saving money, you are also making the impact on the environment a little less drastic. Disposable products add to landfill waste build up. Pet Parents. commitment to healthy, happy pets doesn't end with high-quality products but extends to the environment & places you & your fur-baby will go!
Two is better than one
Pet Parents® Pawtect® Pads come in convenient packs of two, one down where you need & another in the wash or on hand just in case! Always being able to cycle & never being left unpawtected.